---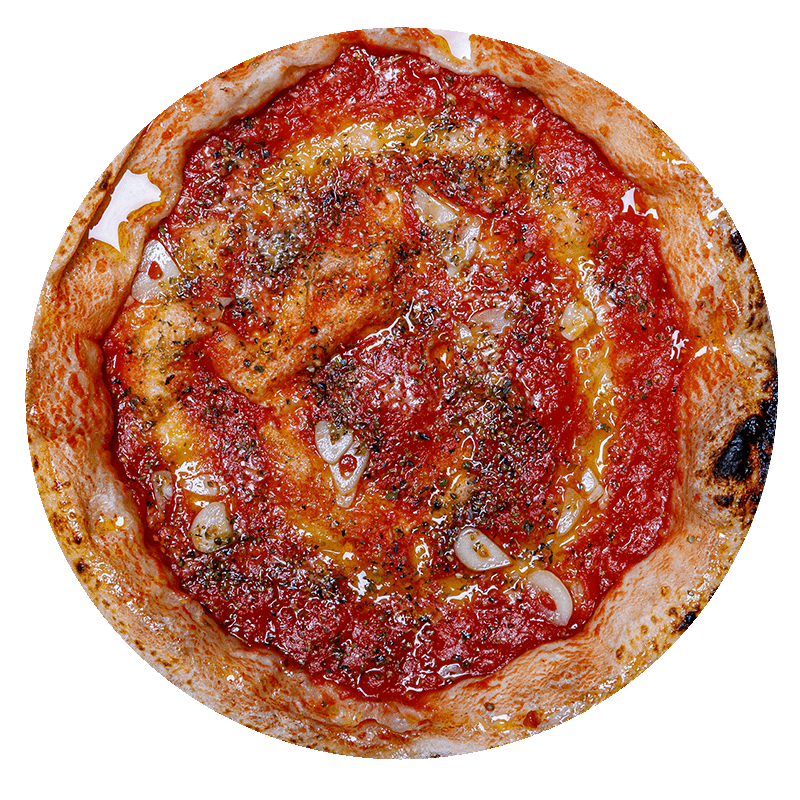 ---
Pizza Marinara
Oregano, garlic, olive oil, basil
---
48,97 KN / 6,50 EUR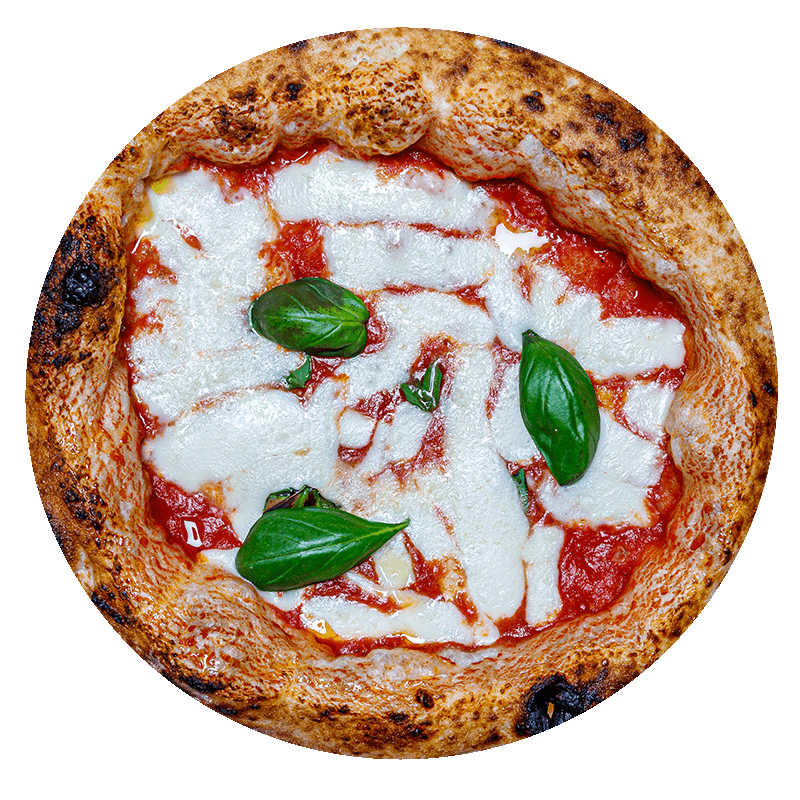 ---
Pizza Margherita
Mozzarella, olive oil
---
48,97 KN / 6,50 EUR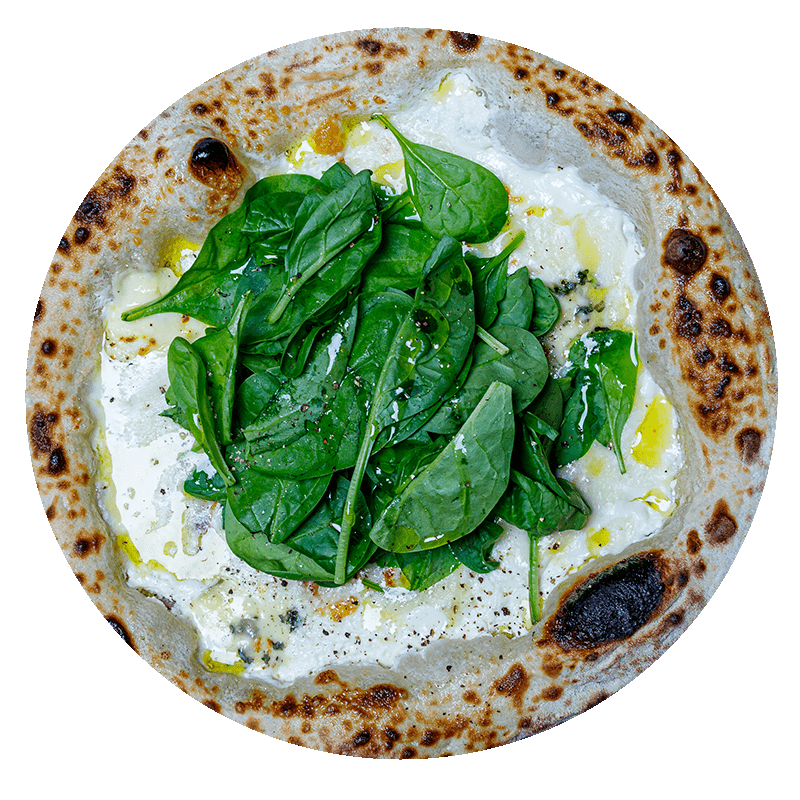 ---
Pizza Bianca
Mozzarella, gorgonzola, spinach, smoked cheese, black pepper
---
67,81 KN / 9,00 EUR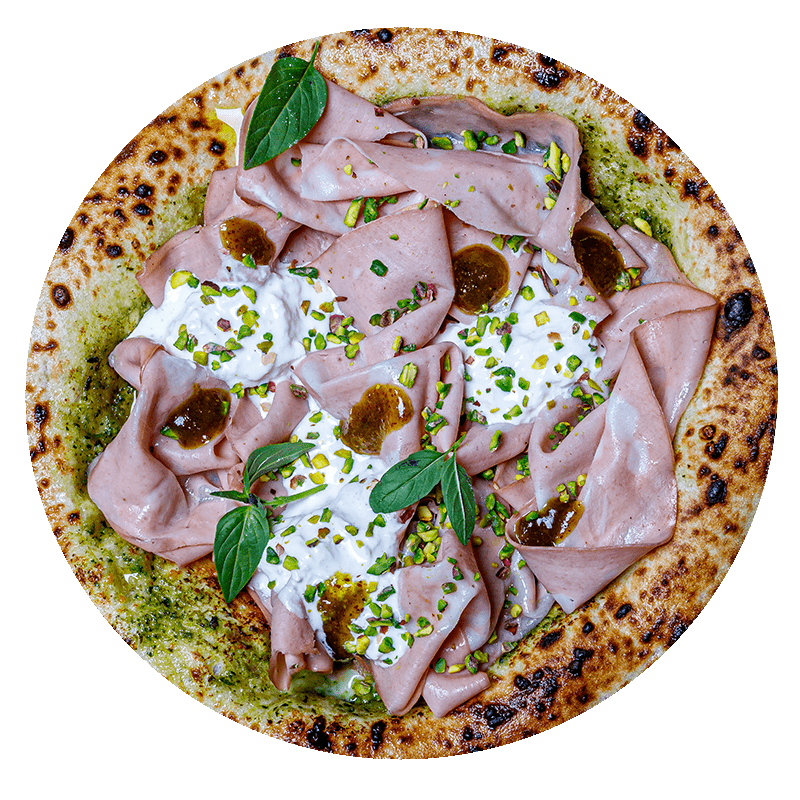 ---
Pizza Mortadella
Mozzarella, mortadella, pistachio pesto, pistachio, stracciatella, pesto Genovese
---
92,67 KN / 12,30 EUR
---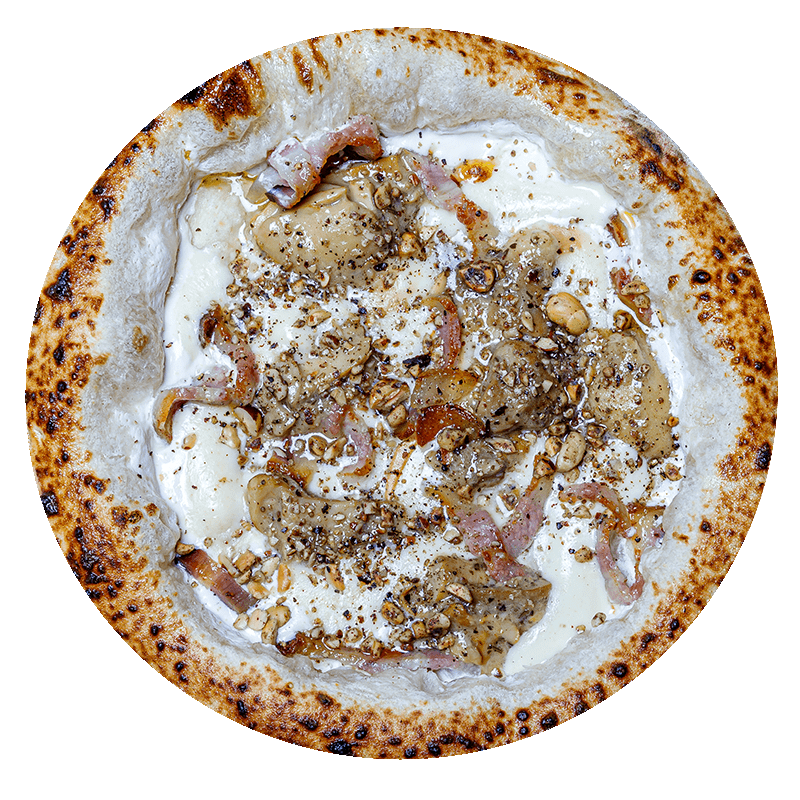 ---
Pizza Porcini e Pancetta e Guanciale
Mozzarella, pancetta, porcini mushrooms, hazelnuts, smoked cheese, ricotta
---
92,67 KN / 12,30 EUR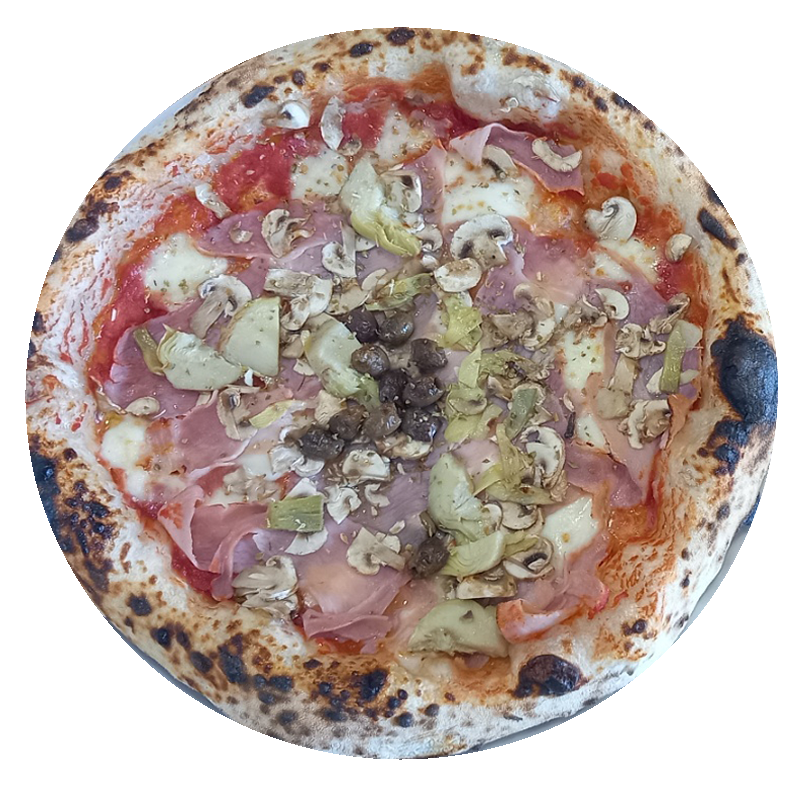 ---
Pizza Capricciosa
Mozzarella, ham, fresh button mushrooms, artichoke, olives, oregano
---
76,81 KN / 9,00 EUR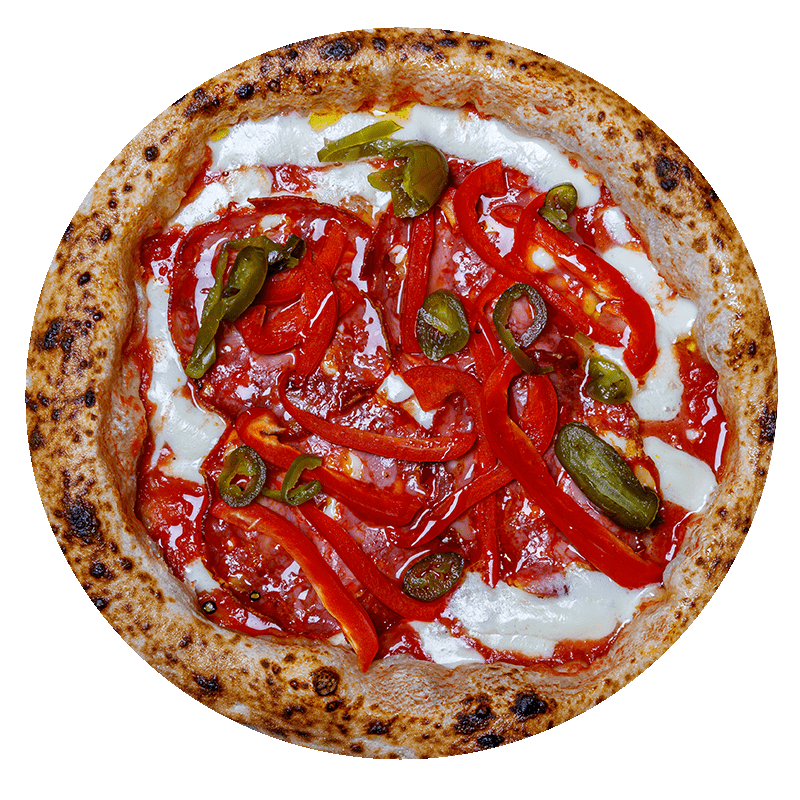 ---
Pizza Diavola
Mozzarella, ventricina, pepperoni, paprka, onion
---
67,81 KN / 9,00 EUR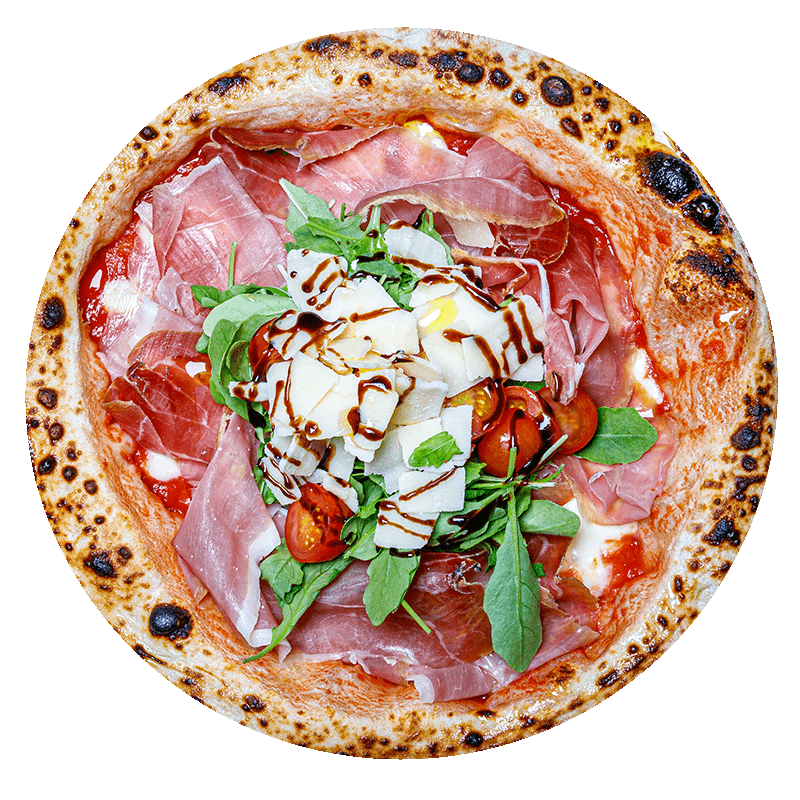 ---
Pizza Prosciutto
Mozzarella, San Daniele prosciutto, rocket, cherry tomatoes, creme vinegar, Grana Padano parmesan
---
92,67 KN / 12,30 EUR
---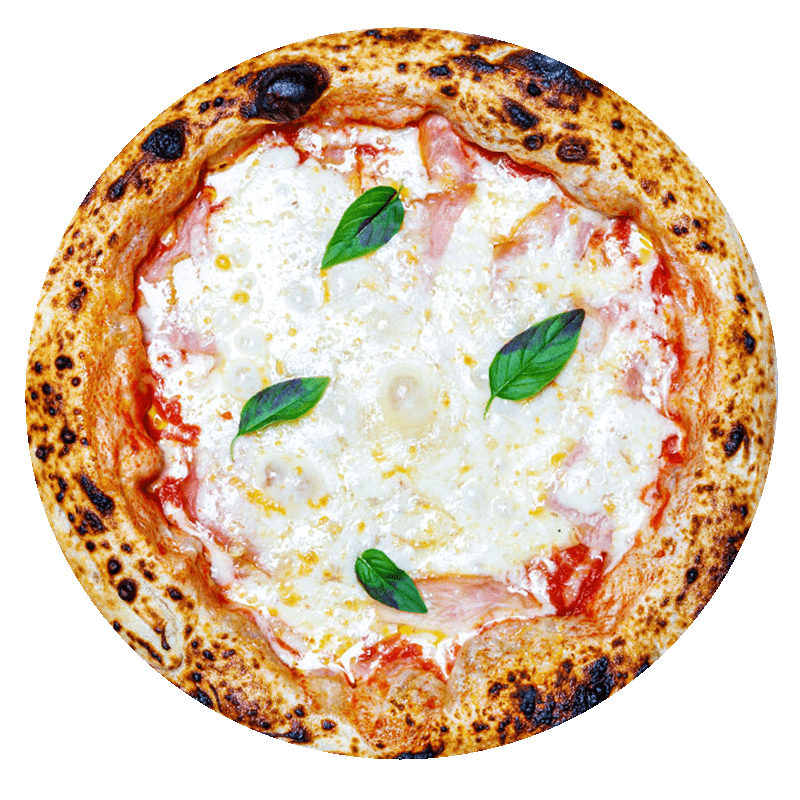 ---
Pizza Montasio
Montasio cheese, ham
---
60,27 KN / 8,00 EUR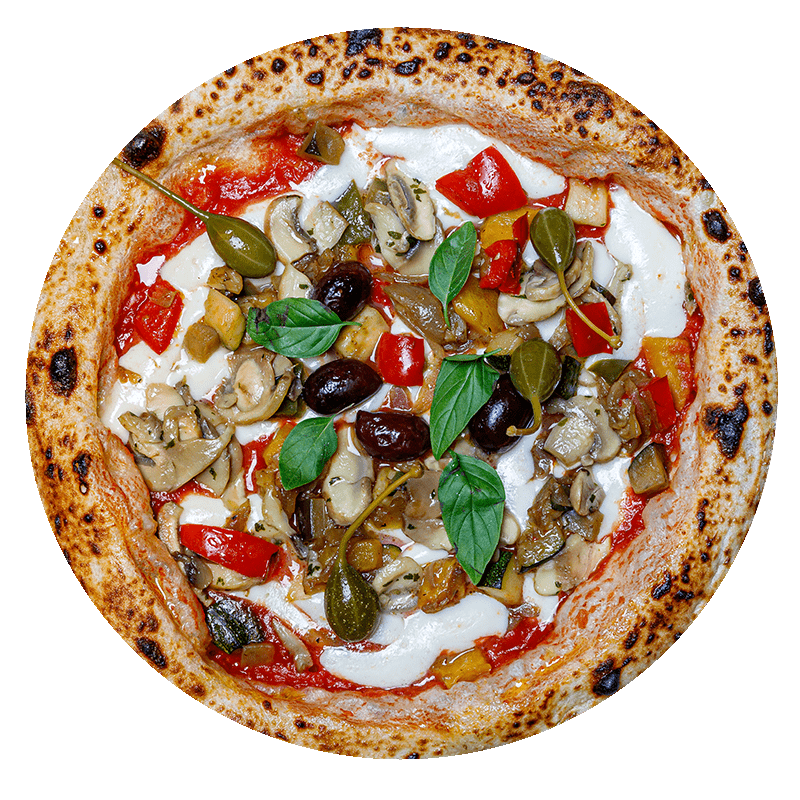 ---
Pizza Vegetariana
Mozzarella, eggplant, zucchini, paprika, onion, olives, caper, oregano, mushrooms
---
67,81 KN / 9,00 EUR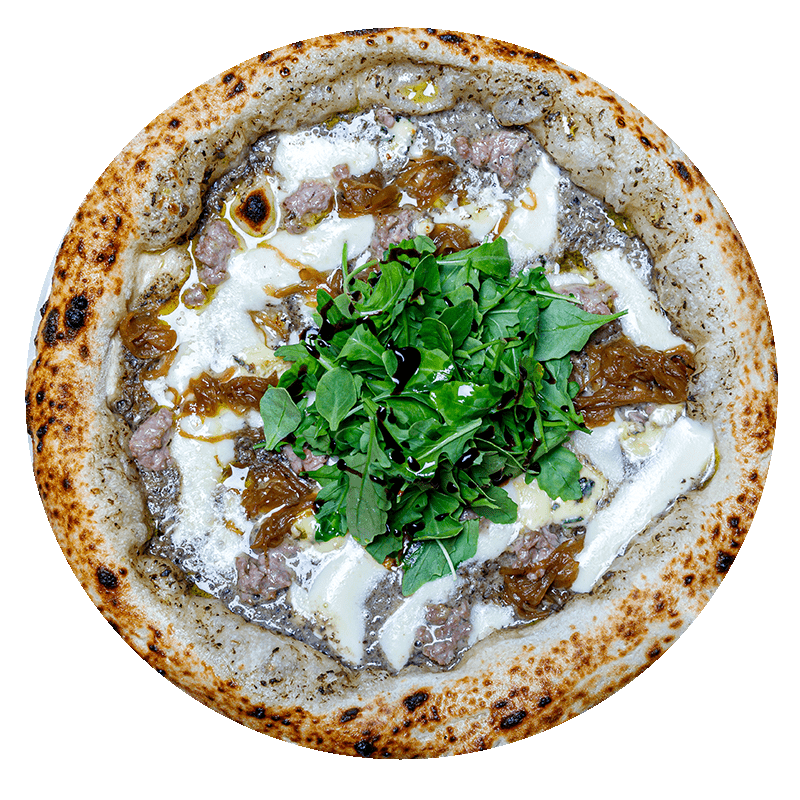 ---
Pizza Dello Chef
Truffles, mozzarella, Salsiccia (sausage), onion, rocket, creme vinegar, gorgonzola
---
92,67 KN / 12,30 EUR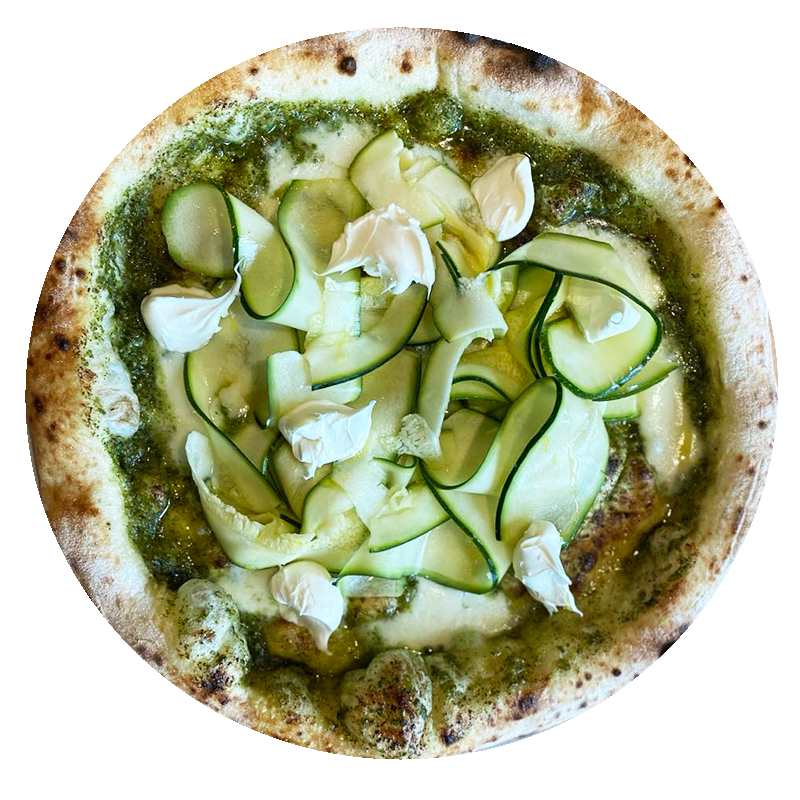 ---
Pizza Zucchini
Mozzarella, pesto Genovese, lemon, zucchini, goat cheese, mascarpone
---
69,32 KN / 9,20 EUR
---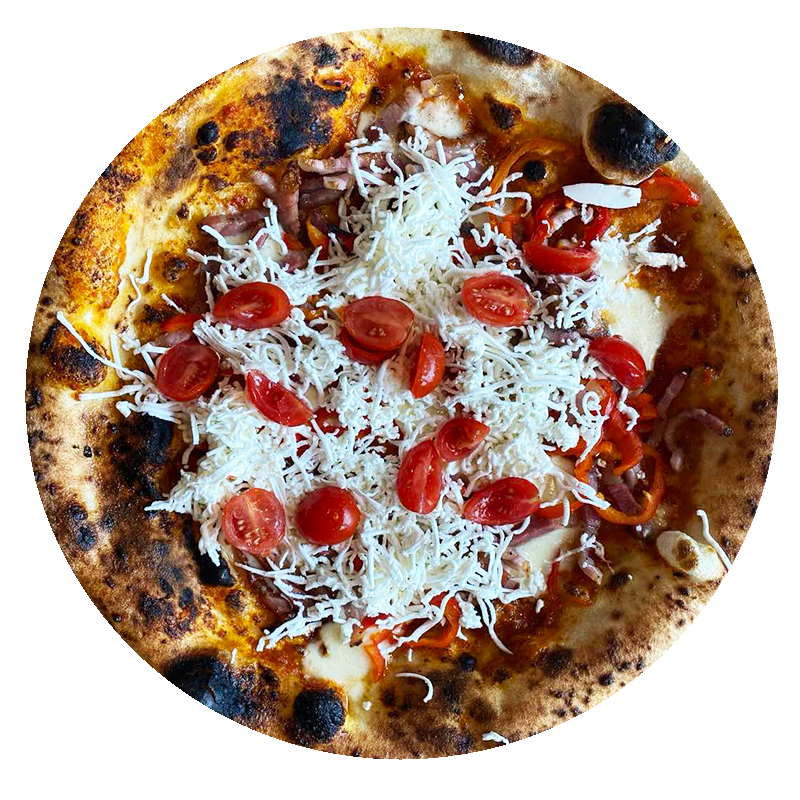 ---
Pizza Pepperoni
Pepper pesto, pancetta, red pepper fresh, Feta cheese, cherry tomatoes, garlic oil
---
88,91 KN / 11,80 EUR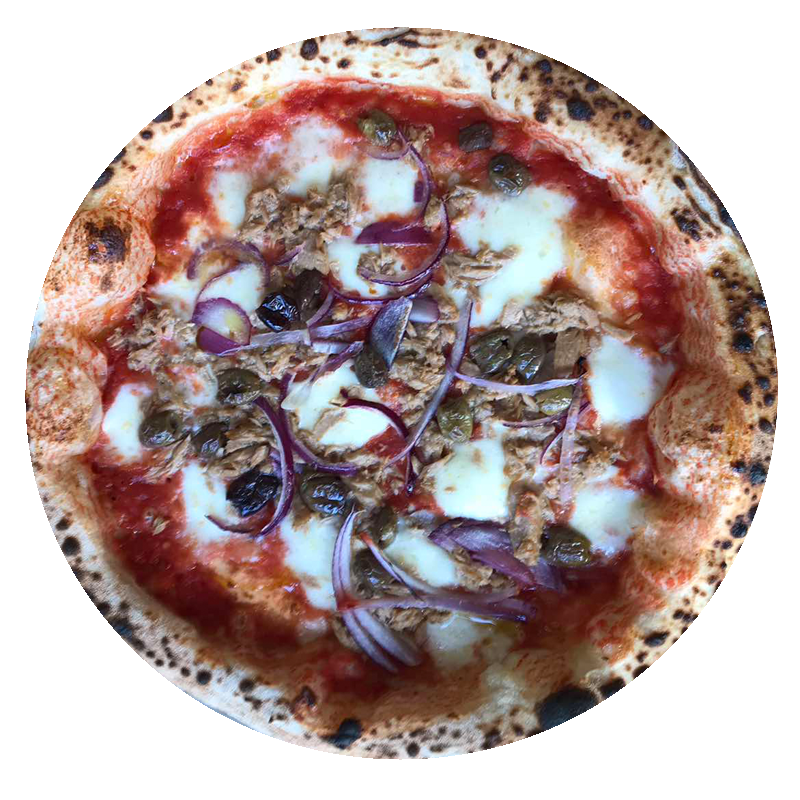 ---
Pizza Tuna
Mozzarella, tuna, onion, olives
---
69,32 kn / 9,20 EUR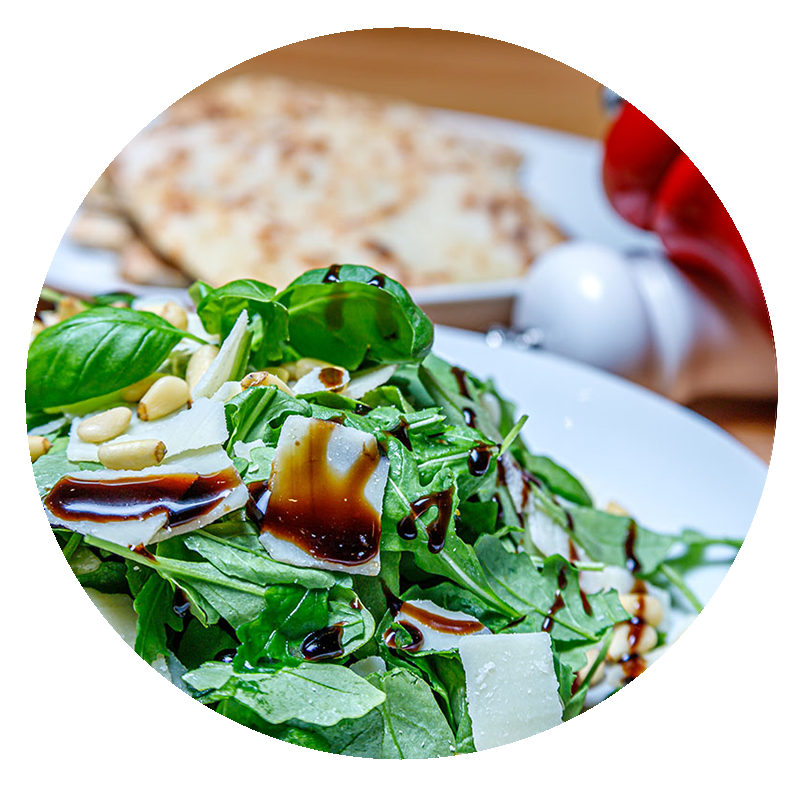 ---
Salad Tricolore
Rocket, cherry tomatoes, Grana Padano parmesan, aceto balsamico, pine nuts, olive oil
---
64,04 KN / 8,50 EUR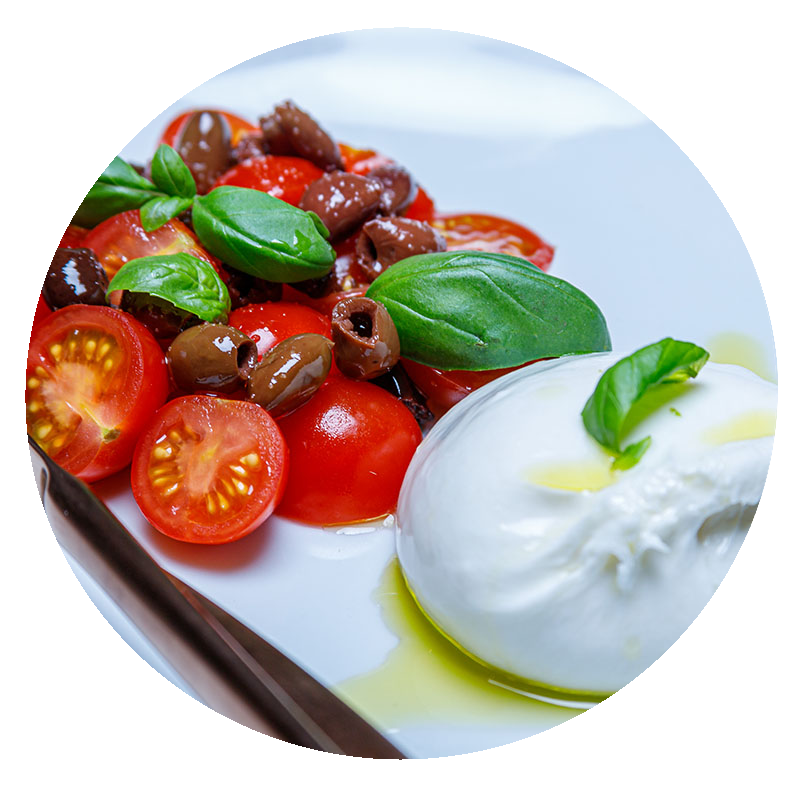 ---
Salad Caprese
Mozzarella Burattina, cherry tomatoes, basil, olive oil, olives
---
71,58 KN / 9,50 EUR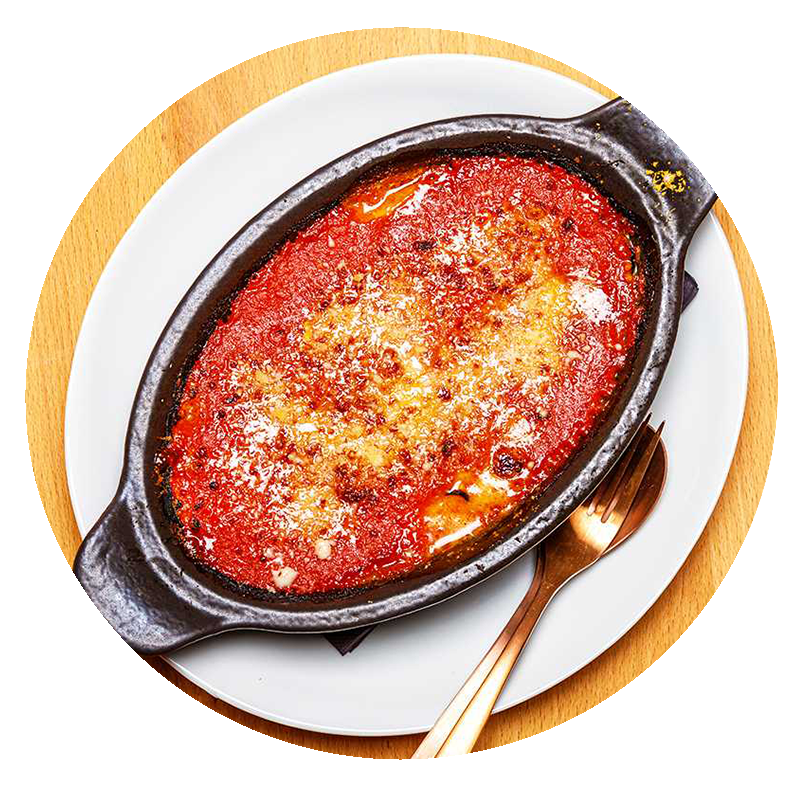 ---
Melanzane alla Parmigiana
Eggplant, mozzarella, San Marzano pelat, Grana Padano parmesan, basil
---
71,58 KN / 9,50 EUR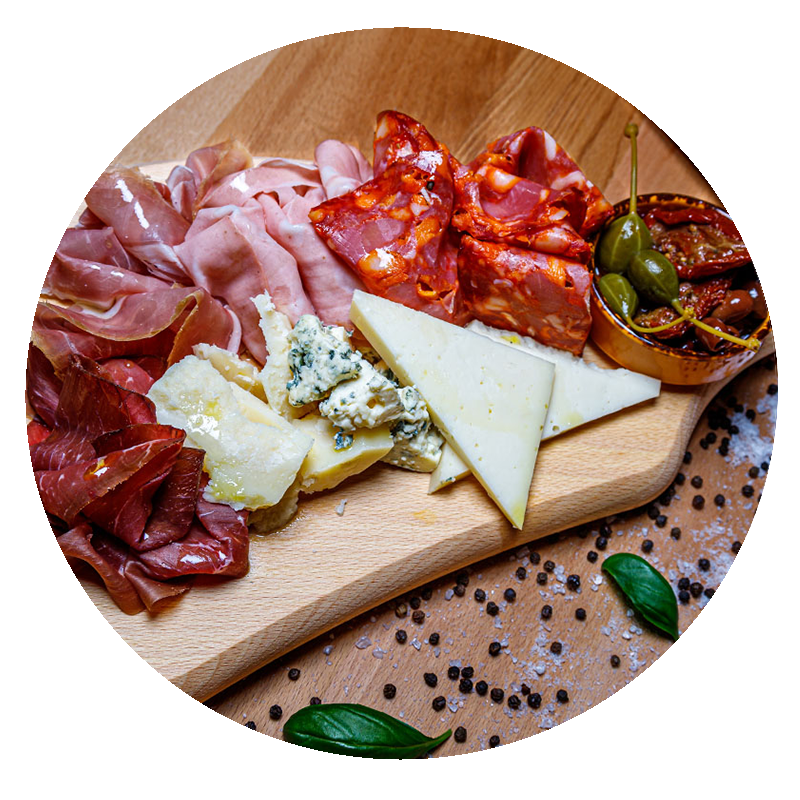 ---
Deli meets and cheese plate (for two persones)
Grana Padano parmesan, gorgonzola, smoked cheese, ventricina, prosciutto, mortadella, beef bresaola, olives, caper, dried tomatoes
---
101,72 KN / 13,50 EUR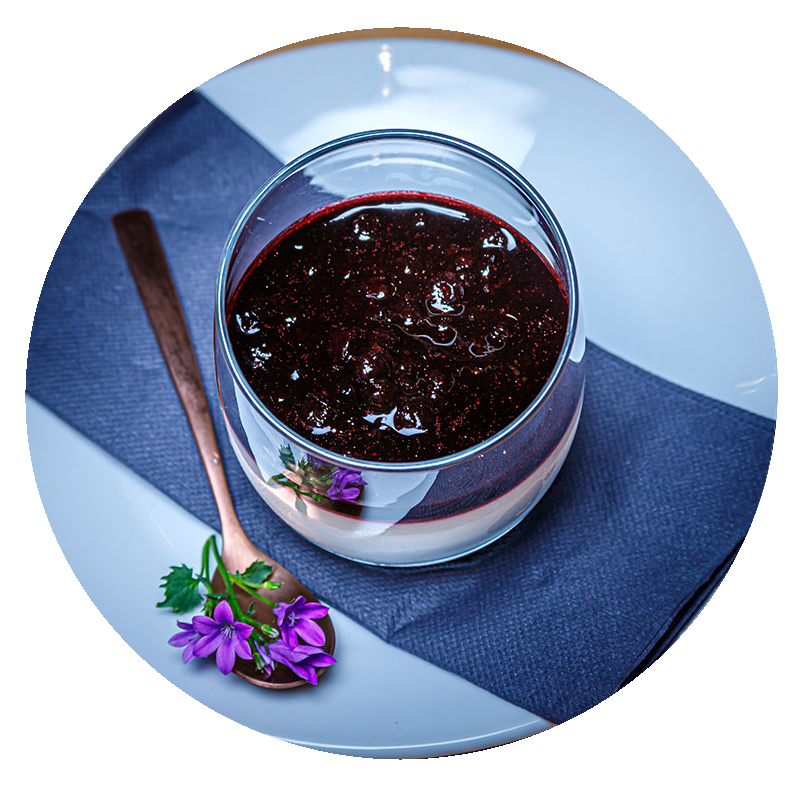 ---
Panna Cotta
---
32,40 KN / 4,30 EUR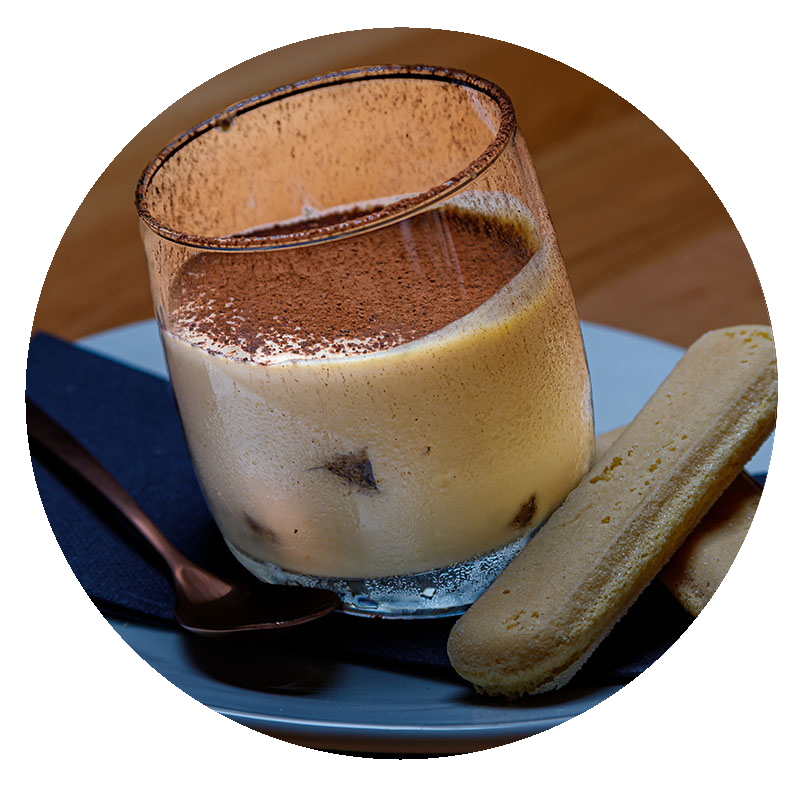 ---
Tiramisu
---
37,67 KN / 5,00 EUR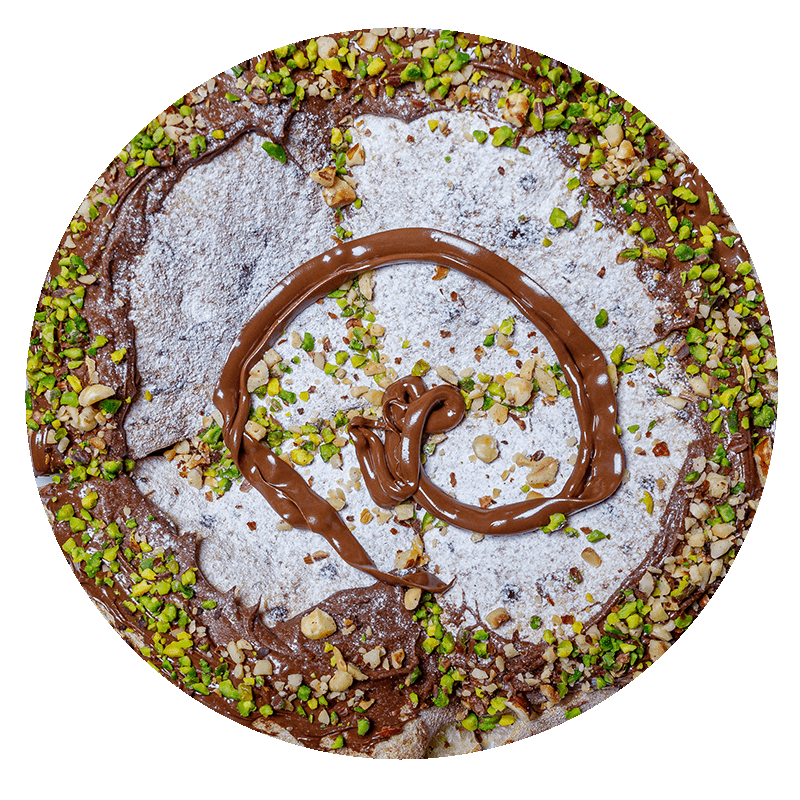 ---
Pizza Alla Nutella (for two persones)
---
45,20 KN / 6,00 EUR
| | |
| --- | --- |
| Espresso | 10,55 KN / 1,40 EUR |
| Espresso with milk | 12,06 KN / 1,60 EUR |
| Cappuccino | 13,56 KN / 1,80 EUR |
| Caffe latte | 15,07 kn / 2.00 EUR |
| Tea | 14,32 KN / 1,90 EUR |
---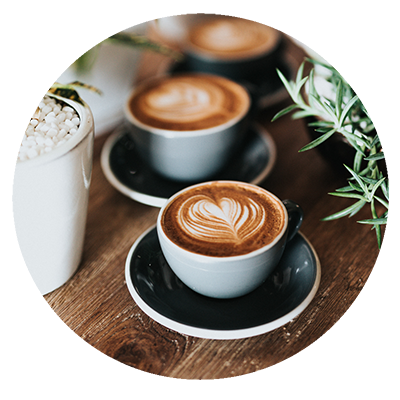 ---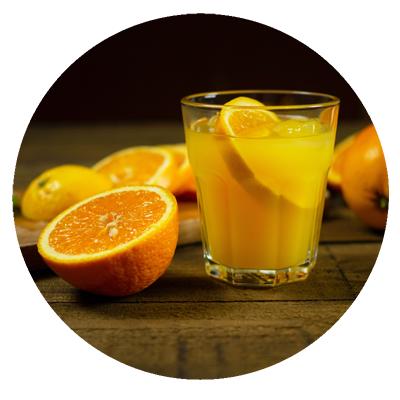 | | |
| --- | --- |
| Coca Cola | 20,34 kN / 2,70 EUR |
| Coca Cola Zero | 20,34 KN / 2,70 EUR |
| Fanta | 20,34 KN / 2,70 EUR |
| Sprite | 20,34 KN / 2,70 EUR |
| Schweppes Tonic | 20,34 KN / 2,70 EUR |
| Schweppes Bitter Lemon | 20,34 KN / 2,70 EUR |
| PAGO juices | 20,34 KN / 2,70 EUR |
| Orangina | 20,34 KN / 2,70 EUR |
| ICE TEA Jana | 18,08 KN / 2,40 EUR |
| Pašareta | 20,34 KN / 2,70 EUR |
| Fresh Orange Juice | 23,36 KN / 3,10 EUR |
| Lemonade | 18,08 KN / 2,40 EUR |
| Fresh Juice Fruit Mix | 27,12 KN / 3,60 EUR |
| Tomato San Marzano | 15,07 KN / 2,00 EUR |
| Cedevita | 16,58 KN / 2,20 EUR |
| Water JANA still 0.33 | 18,08 KN / 2,40 EUR |
| Water JANA still 0.75 | 20,34 KN / 2,70 EUR |
| Water JAMNICA mineral 0.25 | 18,08 KN / 2,40 EUR |
| Water JAMNICA mineral 0.75 | 20,34 KN / 2,70 EUR |
| | |
| --- | --- |
| Whiskey Jack Daniels | 29,38 KN / 3,90 EUR |
| Whiskey Johnny Walker | 24,11 KN / 3,20 EUR |
| Whiskey Chives Regal | 32,40 KN / 4,30 EUR |
| Whiskey Jameson | 24,11 KN / 3,20 EUR |
| Hennessey Cognac | 50,48 KN / 6,70 EUR |
| Rakija Šljiva (Plum) | 20,34 KN / 2,70 EUR |
| Rakija Medica (Honey) | 20,34 KN / 2,70 EUR |
| Rakija Travarica (Herbs) | 20,34 KN / 2,70 EUR |
| Biska | 20,34 KN / 2,70 EUR |
| Campari/Ramazzoti | 25,62 KN / 3,40 EUR |
| Jägermeister | 25,62 KN / 3,40 EUR |
| Vodka Belvedere | 30,14 KN / 4,00 EUR |
| GIN Hendricks | 25,62 KN / 3,40 EUR |
| Aperol Spritz | 40,69 KN / 5,40 EUR |
---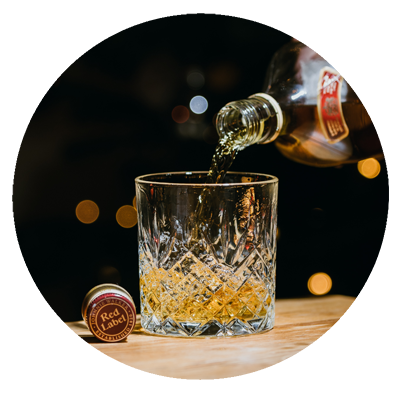 ---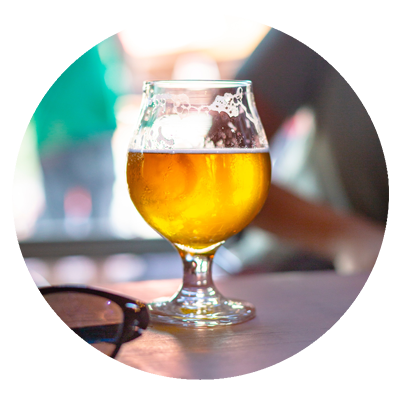 | | |
| --- | --- |
| Karlovačko 0.5 | 20,34 KN / 2,70 EUR |
| Ožujsko 0.5 | 20,34 KN / 2,70 EUR |
| Ožujsko Radler limun 0.5 | 20,34 KN / 2,70 EUR |
| Optimist Golden Ale 0.33 | 30,14 KN / 4,00 EUR |
| Red Sand Amber Ale 0.33 | 30,14 KN / 4,00 EUR |
| Kampanjola Organic Blond Craft 0.33 | 28,63 KN / 3,80 EUR |
| Kampanjola Organic Blond Craft 0.5 | 35,41 KN / 4,70 EUR |
Wine (by glass 0.125ml / bottle)
---
| | |
| --- | --- |
| Deklić Malvazija | 27,12 KN / 3,60 EUR |
| Deklić Chardonnay | 35,41 KN / 4,70 EUR |
| Deklić Rose | 27,12 KN / 3,60 EUR |
| Deklić Cabernet | 30,14 KN / 4,00 EUR |
| Fakin Chamal Pjenušac | 29,38 KN / 4,00 EUR |
| Laguna Muškat Ruža | 28,63 KN / 3,80 EUR |
| Fakin Rose | 28,63 KN / 3,80 EUR |
| Franc Arman Chardonnay | 40,69 KN / 5,40 EUR |
| Kabola Cabernet Sauvignon | 40,69 KN / 5,40 EUR |
---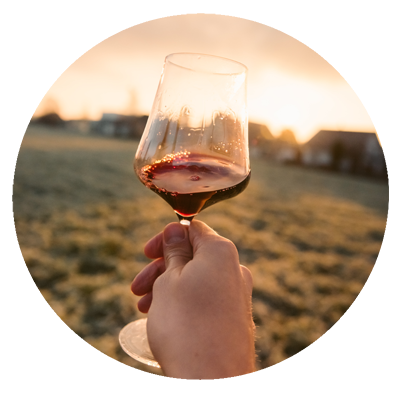 ---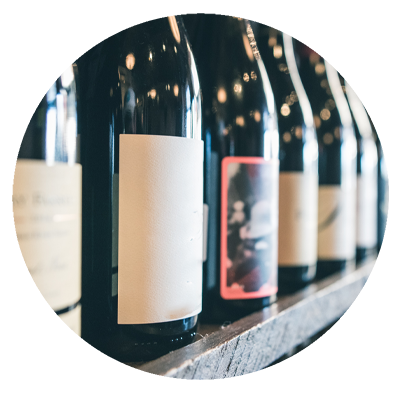 | | |
| --- | --- |
| Meneghetti Malvazija | 130,35 KN / 17,30 EUR |
| Meneghetti Rose | 130,35 KN / 17,30 EUR |
| Meneghetti Merlot | 150,69 KN / 20,00 EUR |
| Meneghetti Black Label | 240,35 KN / 31,90 EUR |
| Meneghetti Classic Champagne | 260,69 KN / 34,60 EUR |
| Meneghetti RED | 520,63 KN / 69,10 EUR |
| Benvenuti Teran | 270,49 KN / 35,90 EUR |
| Kabola "Re" Champagne | 240,35 KN / 31,90 EUR |
| Franc Arman Sauvignon Blanc | 160,48 KN / 21,30 EUR |
| Terra Rosa Laguna | 140,14 KN / 18,60 EUR |
| Pinot SIVI Grigio | 120,55 KN / 16,00 EUR |
The pizza is flawless, the dough is fresh and excellent. Food and flavors are all just right. Excellent quality, extremely friendly staff.

For me, It is important to be efficient and on time, the pizza must always be hot, fresh from the oven. With a smile on my face and a good team to support me, it is always easy to please the guest.

From stretching the dough, through heating the oven and baking the pizza, it's not my job but a way of living. I invest myself for you to enjoy every bite of Maximilian pizza.